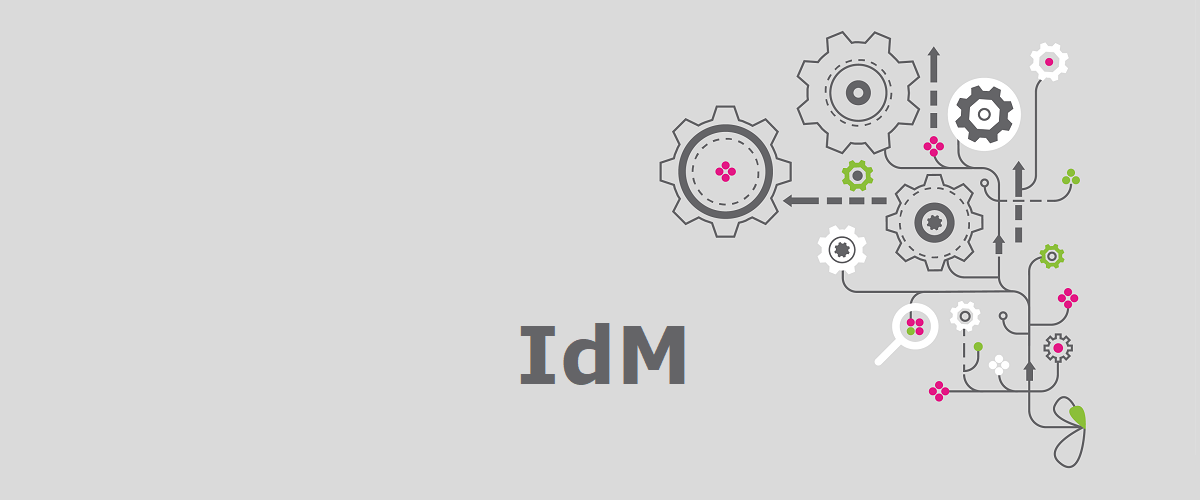 Why you need identity management
Many of us at work have experienced a situation where we needed to cancel accounts and accesses for a former colleague after they left the company. So you call support to make sure they have really cancelled everything necessary.
This step alone can be called identity management. Similarly, the situation when a new employee starts and someone creates an account and sets up access rights for them. As careers grow, access grows; at the end, it disappears completely. In the following article, we will explain why not to leave these tasks to the manual work of the IT department and how the introduction of identity management (IdM) will improve the security and processes in your company.
What exactly is identity management?
Identity management (IdM) is a system that ensures effective and secure management of identities and access. Instead of a general definition, let's rather show how the system solving IdM fits into your organization. Because IdM is a system that connects other systems that you already have in the company.
Put simply: IdM keeps a record of employees working within your organization.
Your IdM assigns accounts and rights to everyone in the systems you work with, such as Active Directory, your CRM or Office 365. The software also knows about planned arrivals, departures or changes in job positions so that it can adjust accesses. You don't concern yourself with this information, it is usually taken over from HR. The system thus saves you a lot of time and frees you from manual assignment of access in the team. It also greatly increases the overall cyber security of the company.
IdM can also distinguish between a permanent employee, a contractor, and a guest – it manages everyone's access according to predefined parameters. Each step may then be subject to approval from an approver.
Imagine a new colleague joining your company outside the traditional layout, namely a self-employed freelancer at a junior level. A quality IdM solution will grant access based on the input information so that he will get only the needed accesses a starting freelancer should need for his work. It will also ensure their quick locking in case of termination of cooperation.
Next week, a project manager will join you, who has the task of getting a key project back on track, because you can't afford to postpone the launch deadline again. You need to do a lightning-fast onboarding and provide the new colleague with adequate access to internal documents and applications. IdM automatically creates accounts and access rights purely based on the job position, so you don't have to enter them manually and worry that you will overlook something important at a critical moment.
So how does IdM facilitate processes and contribute to the security of your organization?
IdM ensures order in the management of people who work with your systems. It will remove duplicate identities and clearly set up 1 person to have exactly 1 identity, even if they hold multiple roles in your organization.
It introduces strict organization into your management thanks to clear assignment of accesses and rights according to given rules. Your employees will thus have exactly the access they need, and nothing else. Forgotten or otherwise unauthorized accounts that open the door to a cyber attack are eliminated. IdM will detect and lock all such accounts.
It links workflow with your established systems, including proxies and escalations. Your employees will be able to work safely in all systems under one central password.
It ensures that all potential disagreements are quickly put into the correct state. From IdM, you can easily get reports about accesses, including, for example, a non-compliance report. A clear and easy-to-use user self-service also minimizes requests for technical support.
It allows you to determine responsibilities for assigning or removing user roles, which ensures clear security conditions. Regular auditing also shows what and how is happening in your organization.
It ensures compliance with legal requirements for cyber security. The implementation of Identity & Access Management tools is the most effective way to achieve compliance with cybersecurity laws, such as GDPR, HIPAA, or SOX.
It automates the setup of rights and supports stricter access control, including the Zero Trust model, which is otherwise often abandoned just for workload savings.
Supports your HR/Student services department and makes it easier and more automated for your employees to perform many of the activities associated with onboarding or offboarding an employee.
---
My IT department takes care of this. So what's it for?
The manual management of accounts and rights is a routine activity, prone to errors, omissions and failure to allocate responsibilities. Answer for yourself:
Think of one employee in your company. How long will it take to get a complete overview of the access and rights he or she has in all your systems?
Are you sure you don't have any forgotten access for an outsourced employee who has been helping out for a while?
Are you sure no one has an extra right that was assigned temporarily to solve an ad hoc problem?
Are you aware of all the people who have an admin role on your core system? And has it always been a management decision or is it an IT thing?
When was the last time you checked that access accounts were up to date and rights were set correctly? Does this information match up with current employees and freelancers?
So how does this change the work of the IT department? First of all, it gets rid of routine activities. Instead, they can focus on the proper functioning of the integrations and systems themselves. They also get rid of the responsibility of deciding what access and rights to assign. These will now be based on defined parameters, people's work assignments and managers' decisions.
In our experience, IdM does not lead to fewer IT staff, but it does improve overall efficiency in addition to substantially increasing security. Downtime during onboarding, role changes, and even small tasks such as changes in a user's last name will be reduced.
Is IdM worth implementing?
We always recommend arranging a no-obligation consultation.
It is important to first examine the schema of your current systems and use a specialized tool to assess the state of your authentication databases. In most cases, we recommend having a feasibility study done before the actual implementation. IdM can be implemented in a variety of ways and usually differs in the modeling of specific processes. But even in a basic deployment, IdM delivers most of the benefits listed above.